What's Happening
Subscribe to posts
The WMOF Official prayer icon will visit parishes in Tallaght on week beginning 15th July  
16th July - St. Martin De Porres Church  Old Bawn
17th July - St Mary's Priory, Tallaght Village.
18th July - St. Marks Church, Springfield.
19th July - leave St. Mark's church for Bishop Ray Field's Deanery
The Annual Corpus Christi procession will take place in the Priory grounds on Sunday, 27th May at 3pm. Parishioners are invited to assemble in the Priory car-park at 2.50pm or better still to walk there from St Aengus's Church leaving here at 2.15pm. A special invitation is being extended to all 1st Communion children to take part.
By registering  for the World Meeting of Families gathering in the RDS on either the Weds, Thurs or Fri (22nd, 23rd , 24th Aug) this year you automatically get a ticket to the Prayer Service with Pope Francis in Croke Pk on Sat 26th Aug plus a ticket for the Mass with Pope Francis in the Phoenix Park on Sunday 26th August.  More tickets for the Mass will become available later in May. More info on the blues leaflets at the back of the Church.
On Good Friday: the Children's Stations will be at at 12 noon. The Ceremony of the Lord's Passion is at 3.00pm. and evening Stations in the Church at 8.00pm.
There is a special Outdoor Stations at 5pm starting up at the top of Glenview Park (at the back of Dr O'Connor's) and returning to the Church via the main road in Glenview, Balrothery and Castle Lawns. We invite parishioners along the way to come out and join in.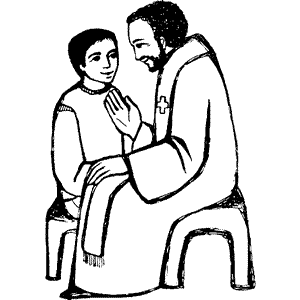 Next Sunday is Palm Sunday and the beginning of Holy Week. It will also be Reconciliation Sunday here in St. Aengus  Church. 
Each Mass will begin with a celebration of the Sacrament of Reconciliation. Visiting priests will be present to help with Confessions.
 OPENING PRAYER
Lord Jesus, send your Spirit to help us to read the Scriptures with the same mind that you read them to the disciples on the way to Emmaus. In the light of the Word, written in the Bible, you helped them to discover the presence of God in the disturbing events of your sentence and death. Thus, the cross that seemed to be the end of all hope became for them the source of life and of resurrection. 
Create in us silence so that we may listen to your voice in Creation and in the Scriptures, in events and in people, above all in the poor and suffering. May your word guide us so that we too, like the two disciples from Emmaus, may experience the force of your resurrection and witness to others that you are alive in our midst as source of fraternity, justice and peace. We ask this of you, Jesus, son of Mary, who revealed to us the Father and sent us your Spirit. Amen.